European Design Codes
Our vessels are strength calculated and designed according to one of the following European (PED compliant) design codes:
EN 13445
AD Merkblätter - AD 2000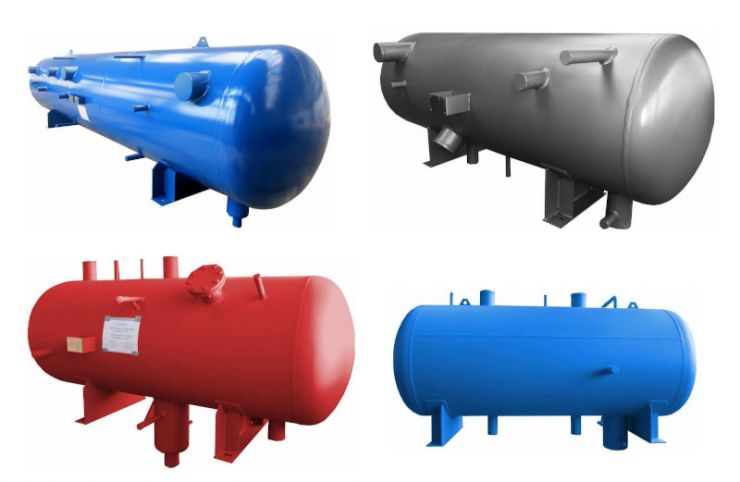 Design Pressure
The majority of the pressure vessels we produce is designed to withstand a design pressure between -1bar(g) (total vacuum) and max. 52 bar(g).
Dimensions
The sizing range of the vessels we regularly produce is usually anywhere between 0.1 - 50 m3 (100 - 50.000 litres).
Not all vessel sizes are available throughout the available application pressure range, as high pressures and large cylinder diameters represent a significant increase of material thickness, nearing production limits.
Internal Features
The internal features (which are usually made of steel pipes, elbows, reducers, T-parts, bent sheet plates, perforated plates and similar) differ from vessel to vessel, and heavily depend on the client's functional design proposal and experience (we do not interfere with the clients on the requested layout of the internal parts, we just draw and manufacture these).
In certain cases, we weld or mount interior 3rd party parts, delivered to us by the client (e.g. demisters, wired meshes or similar).
Vessels Delivery, Equipment
Our vessels are delivered fully tested (NDT of the welds as per the design code and pressure tested acc. to PED or BSEI/CTP requirements) and PED certified by Notified Body (TÜV SÜD).
The vessels are shotblasted (interior/exterior) and coated by a quality industrial primer or primer+top coating layer(s).
The vessels are delivered with blinded nozzles/connections, and usually filled by slight N2 overpressure for the transport/site storage purposes.
We ship the vessels in majority of the cases as "bare", with no equipment or accessories.
---
Engineering, CAD, 3D Models / 2D Drawings
The production of ordered vessels is based on a detailed engineering and CAD work (strength calculation, 3D modeling, 2D production drawings and other). The vessel shape and interior is largely determined by the client's input data, input sketches/drawing and other input info.
We send the client the drawings for the functional review/approval, thus the clients always have full control of the final vessel features to be manufactured.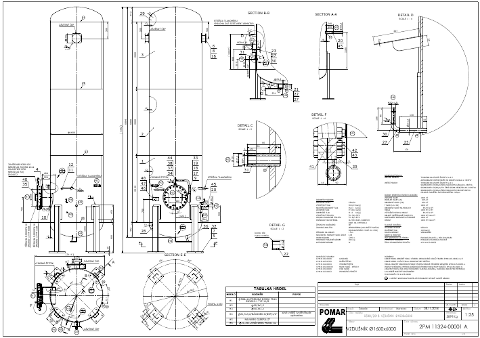 Send us a RFQ!
Request a quotation from us whenever you require pressure or non-pressure vessels (e.g. storage tanks, surge drums, refrigeration vessels, air vessels, liquid receivers, process containers etc) for your project, anywhere where a carbon steel is applicable.
We will need a certain minimal set of input data to prepare a quotation
D = Diameter of the Vessel Cylinder
L = Length of the Vessel Cylinder
PD min/max = Min./Max. Design Pressure
TD min/max = Min./Max. Design Temperature
N = number of Nozzles/Connections, and their respective diameters
Interior details, description
Input Sketch (even a hand made sketch works well) or a Drawing
Working medium, compatible with carbon steel
Execution = Horizontal/Vertical
Number of vessels required
Other details considered relevant

---
We focus on quality, performance, and reliability. Long term.